Today we shipped our first battery pack: a traction pack for a PHEV truck, for a client in California. This marks the beginning of a new phase of Elithion, expanding from just Li-ion Battery Management Systems, to complete, large Li-ion battery packs:
Traction packs for EVs, HEVs and PHEVs
Battery modules for grid storage and telecom back-up
To do so, we created a battery department: we rented lab space, hired a mechanical engineer, signed up the services of a few, key individuals with thermal, mechanical and battery experience, and partnered with like-minded companies.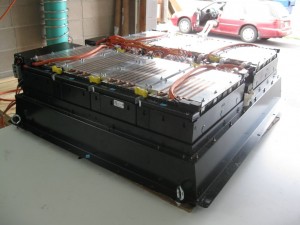 The first result of this new operation is a 20 kWh, 80 kW (180 kW peak), 350 V, liquid cooled traction pack, that includes a BMS (the Lithiumate Pro), a 3 kW charger and a 1.8 kW DC-Dc converter to generate the 12 V supply.
The pack was delivered a mere 73 days after receipt of order.
The hardest part was to identify and procure the cells. We chose pouch cells from the US company Enerdel, because of their high power handling capacity, of how well designed the battery modules were, and of their availability. They aren't cheap, not at all, but the performance was well worth the price.
Final testing established that the pack is 98 % efficient at 250 A, which means that the liquid cooling system did not have to work too hard to extract the little heat generated.
We are proud of this first achievement, and look forward to more, successful battery projects.