A prismatic Li-ion cell consists of multiple flat-wound, Li-Ion cells enclosed in a plastic case and connected to 2 large terminals.
We cut open a Shandong HiPower, 160 Ah, Li-ion, prismatic battery cell. (This cell is similar to a Thundersky / Winston / Sinopoly cell, and to a CALB / Sky Energy cell.)
(Cell courtesy of Peter Oliver of Make Mine Electric.)
The cut-out reveals its internal structure and construction.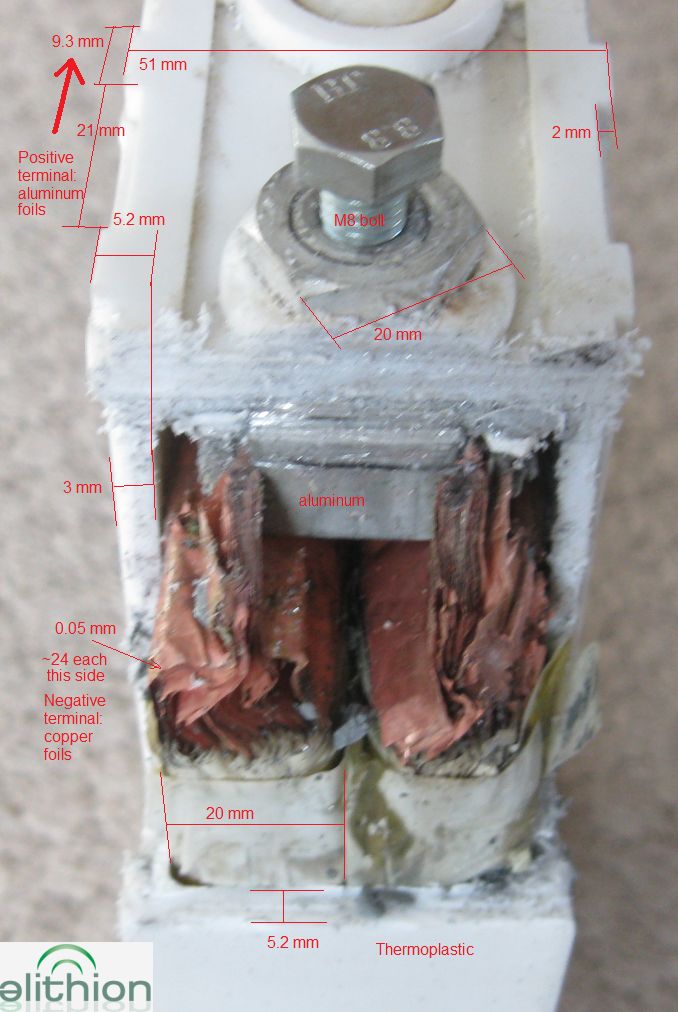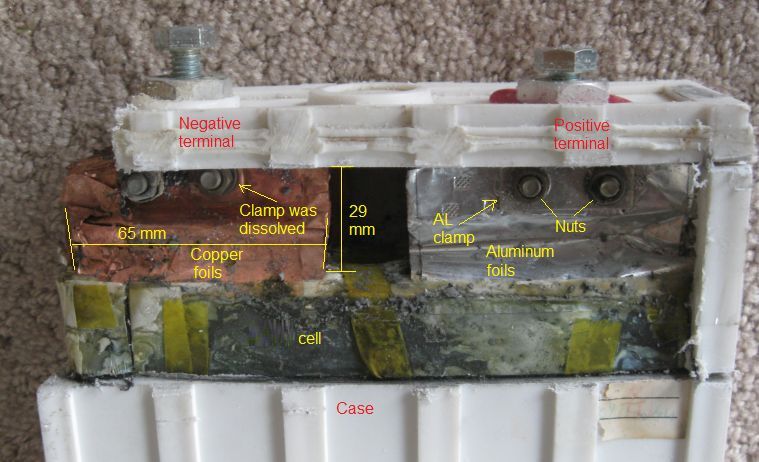 Prismatic cell cut-out
The cell consists of:
A plastic outer case (possibly PVC)
Two sets of flat-wound cells (similar to pouch cells, except not sealed in a bag)

Each set has about 24 foils coming out of it, for each of its 2 terminals
The negative terminal (shown) uses copper foils; the positive terminal (not shown) uses aluminum foils
The foils are 0.05 mm thick (0.002 inches)

Two aluminum terminals (only the negative terminal is shown)

M8 bolt for terminal connection to the bus bar
A 20 mm nut to secure the terminal to the case
Internally, the foils are held against the terminal by two clamp pieces, and two sets of screws, washers and nuts
It appears that, in this particular cell, the clamp pieces on the negative terminal have dissolved, resulting in heat damage
Across the 51 mm thickness of the cell:
4 mm (8 %): air space for cooling
6 mm (12 %): case
41 mm (80 %): cells
See also: GreenEV's dissection of a HiPower cell
Otmar Ebenhoech cut open a Thundersky cell (which apparently had bloated from being fully charged while not constrained).
Again, note that the positive terminal uses copper foils, and the negative uses aluminum.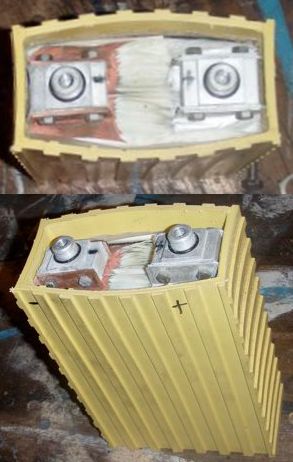 Thundersky prismatic cell cut-out
(Picture courtesy of Otmar Ebenhoech of Cafe Electric.)